Sports Therapy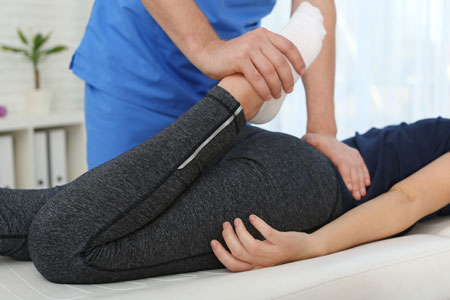 Sports Therapy is an aspect of healthcare that is specifically concerned with the prevention of injury and the rehabilitation of the patient back to optimum levels of functional, occupational and sports specific fitness, regardless of age and ability.
There are many conditions and treatments which are treated by sports therapists and physiotherapists the main differences are in the approach and treatment. Sport rehabilitation focuses on understanding, preventing and treating sports and exercise-related injuries and musculoskeletal conditions.
A sports therapist plays a vital role in supporting athletes of all abilities to reach their optimum level of fitness and reduce the risk of injury.
Sports Therapy Programmes
A sports therapist has the expertise to provide advice specific to the particular sport of the athlete. This enables them to create sports specific programmes for:
Sports specific injury prevention
Sports specific strength & conditioning
Sport Specific injury rehabilitation
Specific sports covered
Our Sports Therapist Juraj Janco predominantly works on:
Running
Cycling
Football
Rugby
Swimming
Climbing
Martial arts
Common conditions treated by Sports Therapists include
Sports injuries
Musculoskeletal (MSK) pain & injuries
Shoulder and hip impingement
Neck and back pain - whether acute or chronic
Mobility restrictions
Posture and posture related problems
Your first Sports Therapy appointment
Sports Therapy starts with an in-depth consultation based on your reason for the visit. The aim is not only to treat the current symptoms, but to find the root cause of the problem that could have led to the pain/discomfort/injury.
Sports Therapists will aim to find the root cause of the problem through a thorough clinical examination which includes subjective history, physical examination and often a postural and movement assessment. They may also undertake a biomechanical assessment.
Once you have agreed the programme, the programme also begins during that first session - we understand you want us to start making a difference right from the outset.
What can I expect?
Your sports therapist will utilise sports and exercise principles to optimise performance, preparation and injury prevention programmes. They will:
Assess, treat, rehabilitate and, where and if appropriate, refer on for specialist advice and intervention
Provide appropriate soft tissue interventions in a sport & exercise context
Provide sports massage where appropriate
Plan and implement appropriate rehabilitation and return to training/work programmes
Undertake Kinesiology taping and athletic strapping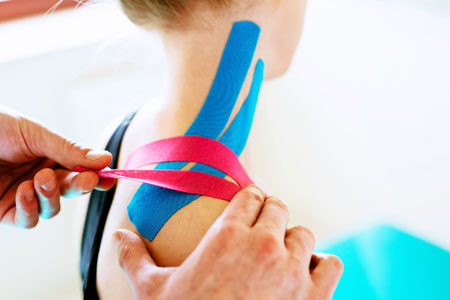 When is sports massage recommended?
Sports massage is a systematic manipulation of the soft tissue of the body which focuses on muscles relevant to a particular problem or a sport. It can be used pre-performance, post-performance, during training or for rehabilitation purposes.
The aim of sports massage is to:
Increase joint range of motion
Increase flexibility
Improve sense of well-being
Improve sleep
Decrease muscle tension and muscle spasms
Making your appointment
Bookings can be made online or by phone
If before booking, you'd like to know whether we can help your exact problem feel free to get in touch, and we'd be happy to talk to you.
Did you know?
Our registered clinicians are the best qualified in their field of MSK medicine and are all registered with their professional associations. We are an accredited PRT training centre for graduate chiropractors