Dear Back to Health friend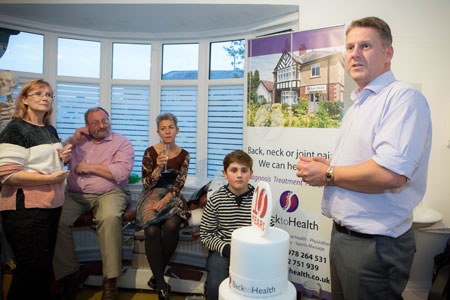 We can hardly believe how far Back to Health has come and how much the business has grown. We setup the first clinic in Wrexham in 2006 and we have grown to a team of 30 in 3 clinic locations as we are now in Mold and Chester too.
Despite our growth, our priorities have not changed. We have always taken pride in putting our patients and their needs first. From reassuring a patient at their initial consultation to providing convenient evening and weekend appointments and adding to the services we offer, our core family business values are the same today as they always have been.
We are the largest chiropractic practice in the region providing expert, evidence based, patient centred care for the chiropractic management of back, neck and joint pain, along with a host of other health services to meet your needs.
At all our clinics we have a wide range of other specialist health services such as physiotherapy, acupuncture, sports therapy and massage therapy on offer. These treatments can be of benefit for a range of health issues, whether you have a sports injury, or you require rehabilitation or if you need help managing chronic pain conditions or stress.
Since opening in 2006, we have worked directly with individuals, insurance companies, local health professionals, sports clubs and businesses to provide rehabilitation and advice on back and joint problems to patients of every age. Our skilled practitioners now hail from around the world, including South Africa, Italy, France and The Netherlands. Specialising in improving the everyday lives of men, women and children, our chiropractic team alone have nearly 100 years experience between them, having worked all over the UK, Europe and South Africa.
Many thanks for your continued support.
Peter & Nia Wagenaar
Here is a small selection of some of the companies, organisations and clubs
we have worked alongside over the last few years

Testimonials
I am very pleased with the knowledge, expertise and professionalism of the Back to Health team itself
Wrexham patient 6936
When I first came I was on two sticks. Now I can manage on one
Wrexham chiropractic patient 4732
Overall, exceptional customer care and service. Would highly recommend Back to Health to anyone
Chester Patient
Did you know?
Our patient surveys demonstrate that 95% of our chiropractic patients show an improvement in their symptoms over a period of 4 weeks. Patients who receive chiropractic care from us show a 70% improvement in symptoms within 4 weeks of starting treatment