What are we good at?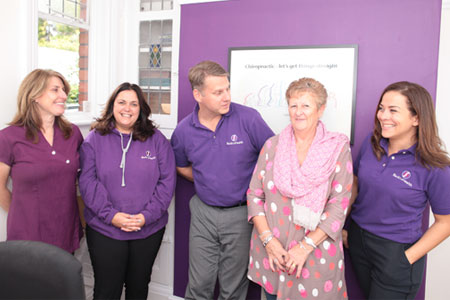 Centre of excellence We are very good at getting you out of back, neck & joint pain. Simple. 95% of our patients show improvement in their symptoms after 3 - 4 visits *
Experienced The Back to Health chiropractic team have over 60 years of private practice experience between them. That's a lot of bad backs they've helped get better!
Flexible Welcome to a clinic with no waiting lists. We have daily, same-day emergency appointments. Get treated quickly & recover faster
Functional You don't have to be in pain to book in! Many of our patients book in for an annual back, neck & joint MOT just as they do for their eyes, their teeth, their pets & of course, their car!
Effective People who have received chiropractic care at Back to Health demonstrate a 70% improvement in their symptoms within 4 weeks of starting their treatment *
Multi-disciplinary Whilst our core treatment is Chiropractic we firmly believe that there are many ways to treat a health problem. We offer additional clinics in Physiotherapy, Podiatry, Acupuncture, Sports Massage & Talking Therapy
Dedicated We are open daily Monday - Saturday including evening clinics and Saturday clinics
Convenient We have 3 convenient, easy to find, main road locations in Chester, Mold and Wrexham. All our clinics have off road parking and are on a regular bus route
HIGHLY qualified Our clinicians are the best qualified in their field of musculoskeletal health. They are all registered with the required professional bodies - the General Chiropractic Council, Health and Care Professions Council, British Chiropractic Association, British Acupuncture Council & Chartered Society of Physiotherapists
Successful Our clinics are centres of excellence for the treatment of back, neck and joint pain. Our patients agree with us. Over 90% of them come recommended to us by word of mouth * and 99.5% rate their treatment with us as good or excellent
Evidence-based Spinal manipulation (a treatment method often used by chiropractors), mobilisation and movement are recommended by National Institute for Care and Health and Care Excellence as the best practice and most effective, evidence-based treatments for lower back pain
Trustworthy We treat dozens of local health professionals including GP's, their families & consultants. If they trust us with their health, so can you
Patient centred We have a useful out of hours 24-hour helpline to give you advice when you need it - when everybody else is closed!
Effective We have a "joined up" way of caring for you. All our clinicians work together to ensure the best possible results for our patients, all under one roof using the most advanced electronic clinical records
Reputable We work with all the leading medical insurance companies & are preferred suppliers for North Wales Police, the Fire services and many corporates
Honest We have a transparent pricing policy and our fee structure represents good value for money. We promise not to over-charge or over treat you
Established We know what we're doing! We the largest chiropractic practice in the area, a local, independent, family owned business with community values & a 11-year track record
Professional We have a support team of receptionists on duty at all our clinics providing a welcome to our patients and administrative support for our clinicians
Safe Clinic based settings, private treatment rooms, comfortable waiting room & always a nice cup of tea or coffee on offer.
Caring Our patients come first!
* Based on 10 years of data (2008 - 2018) provided by the patient outcome measure MYMOPS at Back to Health clinics in Wrexham and Mold.
Testimonials
I am most grateful for the level of care you are taking and to Nia for lots of coffee and her hospitality on a Saturday morning!
Chester Patient
Excellent treatment & advice given. I would 100% recommend the Mold Back to Health clinic to others
Mold patient 928
I have seen a significant improvement after 3 treatments
Wrexham patient 456
Did you know?
Our clinics are centres of excellence for the treatment of back, neck and joint pain