Ankle / Foot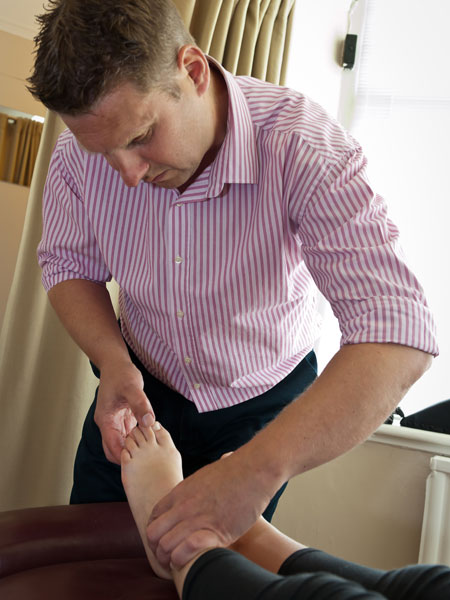 Are you suffering from any of the following symptoms which are often linked to foot pain?
Pain in the ankle or foot
Swelling
Weakness
Joint restriction
Numbness and tingling
The joints of the hip, knee, ankle and foot have a profound effect on one another and are closely related mechanically. For example, a foot problem can often produce pain in the knees, hips and even low back. In the same way that houses built on poor foundations can have structural problems, poor foot mechanics can have an effect on the knees, hips and back. Your chiropractor or physiotherapist will identify any abnormal mechanics and if necessary, refer to our podiatrist to correct them.
Conditions most commonly & successfully treated
Tendonitis - repetitive movements, injury or poor mechanics of the foot can lead to inflammation of the tendons - most commonly the Achilles. This is felt as a tender, hot swelling around the back of the ankle
Sprain/strain - overuse or sudden twisting will result in ankle sprains. Tearing of the muscles and ligaments which support the ankle will cause local swelling and tenderness. Treatment involves appropriate support bandage, ultrasound and strengthening
Gout - a painful inflammatory condition which affects the big toe
Lumbar nerve root compression / irritation (Sciatica) - pain, tingling and numbness over the toes combined with ankle weakness is likely to be due to a trapped sciatic nerve in the low back or pelvis. Your chiropractor will identify the entrapment site and aim to reduce the irritation on the nerve
Plantar fasciitis - a painful condition affecting the sole of the foot and into the heel. Usually related to poor foot mechanics, the aim of treatment is to alter the mechanics so that there is less pressure on the muscles on the sole of the foot
Morton's neuroma - focal pain felt over the sole of the foot (often between the 2nd and 3rd toes). Onset is usually non-traumatic, and pain can be eased when walking barefoot
Stress fractures - these occur over time and are related to excessive running or walking. Confirmation needs to be done with x-rays
Tarsal tunnel syndrome - compression of a nerve on the inside of the ankle, this condition causes tingling and numbness across the bottom of the foot under the big toe
Pes Planus (Flat Feet) - flat feet, or Pes Planus is very common. It is approximated that at least one quarter of the population has flat feet. Human beings are not born with an arch but develop them somewhere between ages 3-10. However, in certain people this development never takes place. Along with genetic causes, there are several factors that can cause flat feet or predispose people to the condition. Infrequently, people develop arches only to have them collapse later in their life. This frequently depends upon lifestyle, job, and level of activity. Age and weight also play a role in the development of the condition. Middle-aged people who have been working on their feet for years often experience flat feet
Tarsal tunnel syndrome - compression of a nerve on the inside of the ankle, this condition causes tingling and numbness across the bottom of the foot under the big toe
Testimonials
I would definitely use Back to Health again. I am delighted with the progress on my foot problem. The physio has been really helpful, not just solving the pain problem but building up my strength in the area too
Wrexham physiotherapy patient 6336
The team have been very helpful in easing my very painful heal. Now I can walk in comfort. Excellent care and very pleasant to deal with. Many thanks!
Maria, Wrexham physiotherapy patient
Did you know?
You don't need to be in pain to book in at the clinic - Would you wait until you can't see before seeing your optician or have your teeth fall out before booking in to see your dentist? You don't wait until your car breaks down before getting your car serviced? We recommend you give your spine and muscular system an MOT just as you would your eyes, your teeth or your car. Just book in for an MSK screening appointment!