Acupuncture
Traditional acupuncture treats the whole person, body and mind, and not just symptoms. It's been researched, refined and developed for centuries.
Acupuncture is now widely used and accepted all over the world.
Acupuncture works. Can traditional acupuncture help you?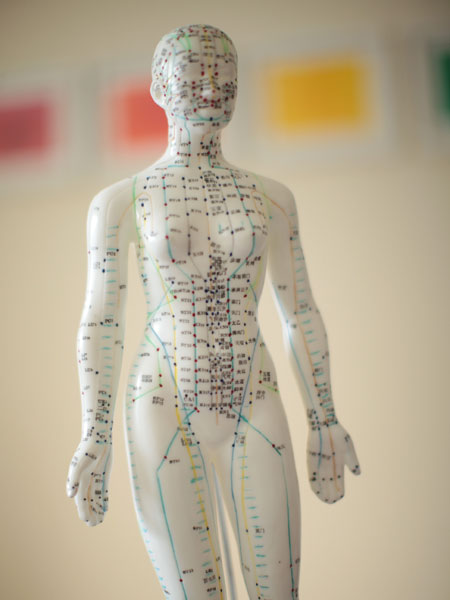 Back to Health are lucky to have 2 TCM (Traditional Chinese Medicine) trained acupuncturists working with us at our clinics. Lynn Owen works with us in both Wrexham and Chester. Liz Eames works with us in Mold and Chester. Between them they have over 30 years' experience. Lynn is also a trained yoga teacher and offers Yoga for back health classes at our Chester clinic. Liz is also a trained Shiatsu practitioner and offers combined Shiatsu massage therapy and Acupuncture treatment.
Whilst most of our Back to Health treatments are based on the Western evidence based medical model, traditional acupuncture is a healthcare system based on ancient principles which go back nearly two thousand years. It has a very positive model of good health and function and looks at pain and illness as signs that the body is out of balance. The overall aim of acupuncture treatment, then, is to restore the body's equilibrium. What makes this system so uniquely suited to modern life is that physical, emotional and mental are interdependent, and reflect what many people perceive as the connection between the different aspects their lives.
Based on traditional belief, acupuncturists are trained to use subtle diagnostic techniques that have been developed and refined for centuries. The focus is on the individual, not their illness, and all the symptoms are seen in relation to each other. Each patient is unique; two people with the same western diagnosis may well receive different acupuncture treatments.
Traditional acupuncturists believe that the underlying principle of treatment is that illness and pain occur when the body's qi, or vital energy, cannot flow freely. There can be many reasons for this; emotional and physical stress, poor nutrition, infection or injury are among the most common. By inserting ultra-fine sterile needles into specific acupuncture points, a traditional acupuncturist seeks to re-establish the free flow of qi to restore balance and trigger the body's natural healing response.
Until the 1940s, when the Chinese government commissioned the development of a uniform system of diagnosis and treatment, somewhat misleadingly referred to as TCM (Traditional Chinese Medicine), nearly all training had been apprentice-style with masters and within families. The same applied when acupuncture travelled overseas to Japan and South East Asia.
Traditional acupuncture has a long history of adapting to new cultures in which it is practised. Its growing popularity and acceptance in the West may well promote yet more new and exciting variations on the ancient themes.
A growing body of evidence-based clinical research shows that traditional acupuncture safely treats a wide range of common health problems such as back pain and issues with fertility.
We have found that many of our patients have many questions relating to their acupuncture treatment. We have compiled a list of answers which we hope will help answer some of these questions!
Before having acupuncture treatment
Before your first acupuncture session there are several things you should bear in mind:
Many commonly used acupuncture points are located on the lower arms and legs, so it is helpful to wear clothing that allows easy access to these areas
Try not to go for treatment on an empty stomach or straight after a heavy meal
Do let your practitioner know if you are completely new to acupuncture so they can take extra time to explain what happens and ensure you are comfortable with the process
Your first consultation
During your first visit the acupuncurist will need to gain a thorough understanding of your main complaint and your general health and lifestyle. This involves asking questions about your current symptoms and your medical history, as well as such things as your sleeping pattern, your appetite and digestion, and your emotional wellbeing. Women are also asked about their menstrual cycle and any past pregnancies and childbirth.
You might feel that some questions appear unrelated to your condition but the information you give helps the acupuncturist form a more complete picture of your health and lifestyle. They will also take your pulse on both wrists and may examine your tongue and feel for areas of muscular tension or pain.
To make a diagnosis according to traditional Chinese medicine theory and to find the right treatment approach, they will also want to know more specific details.
Treatment plan and treatment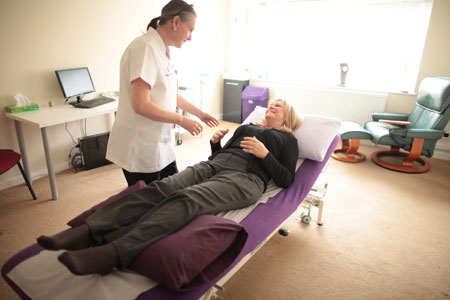 Based on all the information you have given, the acupuncturist will make a diagnosis and put together your treatment plan, which may include lifestyle and dietary advice as well as acupuncture. They will use very fine single-use pre-sterilised needles to stimulate specific acupuncture points on your body. Because energy meridians range across the whole body, the points used are not necessarily close to where you experience pain or discomfort. For example, if you suffer from headaches needles might be inserted in your foot or hand.
The frequency and length of treatment depends on your individual condition. Some change is usually felt after four/five treatments, although occasionally only one or two treatments are required.
Your acupuncturist will normally ask to see you once or twice a week at first.
For chronic conditions you may need long term treatment to keep your symptoms under control.
Acupuncture has a very sound track record. The needles used are single-use, sterile and disposable. Our acupuncturists only use high quality needles so reducing any discomfort from needling.
Acupuncture techniques used at Back to Health
As well as needling acupuncture points, Lynn and Liz may use other Chinese medicine techniques such as:
Moxibustion - heat is applied to an acupuncture point or meridian using moxa (a therapeutic herb) and/or heat lamps to warm and relax muscles and qi
Tuina - Chinese therapeutic massage relieves muscle tension, stimulates acupressure points, opens energy meridians and stimulate the flow of qi
Cupping - glass cups with a vacuum seal are placed on the skin to stimulate blood flow and clear stagnant qi
Electro Acupuncture
Shiatsu massage
Lifestyle advice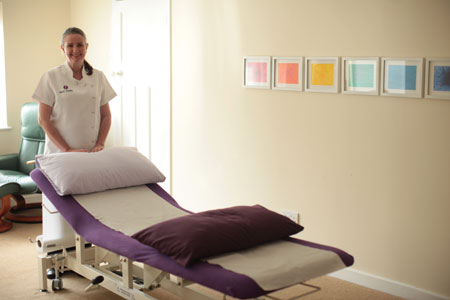 The acupuncturist will also suggest ways in which you can enhance the long-term effects of your treatment. This may involve making changes to your diet and daily routine. Your acupuncture treatment may be combined with other treatments (chiropractic for example) at the clinic as they complement each other.
After-effects
Most people find acupuncture relaxing and often feel very calm after a treatment. You may feel a little tired or sleepy and should take this into account if you are planning to drive or use heavy machinery straight after your treatment.
You should refrain from vigorous exercise after treatment and, ideally, give yourself a little time to rest. It is also advisable not to drink alcohol for several hours after treatment.
Acupuncture has very few side effects and any that do occur are usually mild and self-correcting. Cupping and guasha can sometimes temporarily mark the skin. Such bruising is painless and generally clears within a day or two.
Testimonials
I would like to thank Lynn for the acupuncture treatment she has given me. Now being virtually pain free, having suffered for so long it is wonderful, my quality of life has improved and I'm enjoying every day. I wish that I'd had this treatment a long time ago. Thank you so much Lynn for allowing me to have an enjoyable existence
Judy Roberts, Acupuncture patient
Thank you for helping me, my headaches and neck pain, are so much better, I was taking painkillers several times a day, now I only take them once or twice a month, usually when I've been over-doing things. Thank you for your treatment and good advice
Ms J Johns, Acupuncture patient
I had been suffering pain over an extended period before my first acupuncture appointment. I was very impressed by Lynn's professional manner and the caring way in which she listened to me. The treatment made a world of difference and I was always reassured by Lynn's positive attitude when I was feeling low as a result of the pain. Her mentoring skills really helped me through
Mrs C Smith, Acupuncture patient Wrexham
Did you know?
You don't need to be in pain to book in at the clinic - Would you wait until you can't see before seeing your optician or have your teeth fall out before booking in to see your dentist? You don't wait until your car breaks down before getting your car serviced? We recommend you give your body an MOT just as you would your eyes, your teeth or your car. Contact the clinic to book your appointment!