Our fees
Chiropractic fees
Initial assessment (up to 60 minutes)
Detailed medical history & complete examination (orthopaedic, neurological, chiropractic), report of findings including treatment (if clinically indicated)
£55
Follow up visit & treatment
(up to 20 minutes)
£35
Children's initial assessment
(as above - under 16)
£42
Children's treatment
(under 16)
£24
Reassessment
(new condition or not been in for more than 6 months)
£45
Individual treatment packages available on request
(5 treatments 10% discount, 10 treatments 15% discount)
Physiotherapy fees
Physiotherapy assessment including treatment
(45 minutes)
£45
Treatment (approx 30 minutes)
£35
Acupuncture fees
Acupuncture assessment including treatment
(approx 60 minutes)
£45 - £47
Acupuncture treatment
(45 minutes)
£37 - £40
Individual treatment packages available on request
Remedial & Sports Massage therapy
60 minutes *
£50
45 minutes *
£45
30 minutes *
£30
Shiatsu assessment & treatment
(60 minutes 15 minutes)
£50
Shiatsu treatment
(60 minutes)
£45
Pre or post event massage
(30 minutes)
£30
Individual treatment packages available on request
Sports Therapy
Sports Therapy Assessment including treatment
(45 minutes)
£40
Exercise rehabilitation programme (Back to Health clinical referral only)
(30 minutes)
£20
Pilates & Yoga
Yoga for back care - small group class (max 4)
(60 minutes)
£10
Pilates one to one session
£15
Reflexology
Reflexology treatment
(60 minutes)
£40
Reflexology treatment
(45 minutes)
£35
* allow an additional 15 mins for a first visit assessment (free of charge)
Cancellation policy
Please try to avoid changing appointment since this will affect your outcomes for treatment.
If you must change the time of your appointment please give as much notice as possible, a minimum of 24 hours, as this give us an opportunity to offer it to another patient. We reserve the right to make a reduced charge for appointments not kept or cancelled with insufficient notice (24 hours).
How to pay?
Back to Health are pleased to accept payment by cash, cheque & credit/debit card at the end of each treatment unless by prior agreement by the clinician.
Chiropractic fees
The fees charged for chiropractic treatments reflect the expertise of the practitioner and the times given are for guideline only. In the same way when you visit the dentist you do not pay for the time it takes! Each patient will receive the correct amount of time clinically indicated which may be either shorter or longer than the approximate timing guidelines outlined on this page.
Visiting specialists
We are lucky to have several visiting specialists who provide health services beyond the above services within our clinics. Bookings are made and fees are paid directly through the specialists themselves. We do have all of their details available at the reception desk in each clinic.
Clinical hypnotherapy, Counselling, Psychology & Dietician - POA
Private medical insurance & healthcare cash plans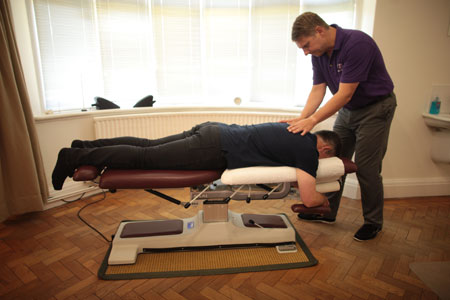 Private medical insurance
Back to Health chiropractic care is covered by all the major private health insurers including BUPA, AXA/PPP and Vitality. For certain insurance providers you may be asked to self-pay for your treatment and claim back your fees. We are happy to provide a statement of fees paid. If you are requesting that your fees are paid directly by the medical insurer we will need you to complete some additional paperwork. Before making an appointment at the clinic please check your policy for level of cover and any excess charges. We will usually need your insurance policy number and a pre-authorisation code outlining how many treatments have been authorised or whether there is an excess to pay*
Some insurers require you to have a GP referral in place before starting your chiropractic treatment, others require you to undertake a telephone triage before making an appointment. If you would specifically like to be seen by a Back to Health clinician, please do request this when you contact your insurance company otherwise you may well be allocated another clinician who is not as convenient or in whom you do not have as much faith.
* You may find that our private medical insurance fees are slightly higher than our self- pay fees. This is to cover the additional administrative burden which the insurance companies now demand from clinics.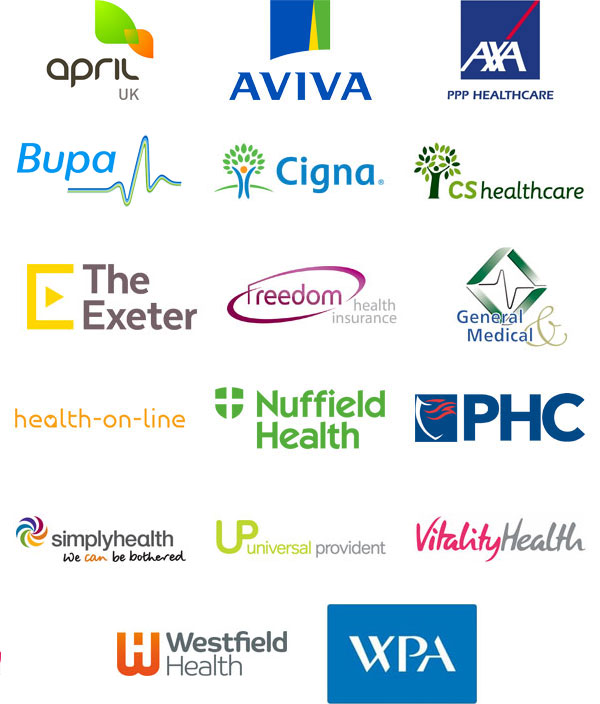 Want help with treatment costs - get a health cash plan!
Healthcare cash plans are insurance policies that instead of covering you for unforeseen and unpredictable medical events, help you pay for the cost of routine healthcare. They are totally different to private medical insurance and can be a cheap way of paying for everday healthcare.
They typically cover dentistry, opticians, a hospital inpatient fee, special consultations and maternity payments. You may not be aware that both chiropractic and physiotherapy treatment is usually covered by healthcare cash plans within "health and wellbeing". Different plans cover different things so make sure you pick one which covers chiropractic or physiotherapy. Some also cover acupuncture, sports massage and podiatry. It may also be worth checking whether you may already be covered by your employer. You may also get free cover for your partner and children which can also be used to cover private chiropractic and physiotherapy treatment. Well known cash plan company names include Simplyhealth, BHSF, Healthshield, Orchard Healthcare, HSF and WHA Direct.
If you are planning on claiming your treatment fees through a cash plan please let us know at the start of your treatment plan and we will issue you with a receipt after each treatment or at the end of a course of treatment.
Y Siop
Several useful items are available to buy from Y Siop in the clinic; they include Biofreeze ice gel, ice & heat packs, wheat bags, sports and joint supports, neck collars (to order), and a range of beautiful skincare products from our wonderful clinic supporters, Freyaluna.
Testimonials
A very effective booking system and communication via text messages plus the 24 hour helpline. A very relaxed and welcome place
Wrexham patient 5171
Very nice people, very welcoming. Always have time to talk
Wrexham patient 6698
The whole process from booking appointments through to the clinical care has been totally stress-free and a very satisfactory experience
Wrexham patient 5129
Did you know?
An 11.7-minute trip to the GP costs the NHS at least £45; a visit to A & E £80.55, prescriptions cost an average of £41.35 and an outpatient appointment an average of £108 according to government data. By comparison, our fee for the first consultation including treatment is £52 (60 mins) which compares to the fee of going to the dentist for a private first consultation £53 with no treatment included! Not bad really!