Physiotherapy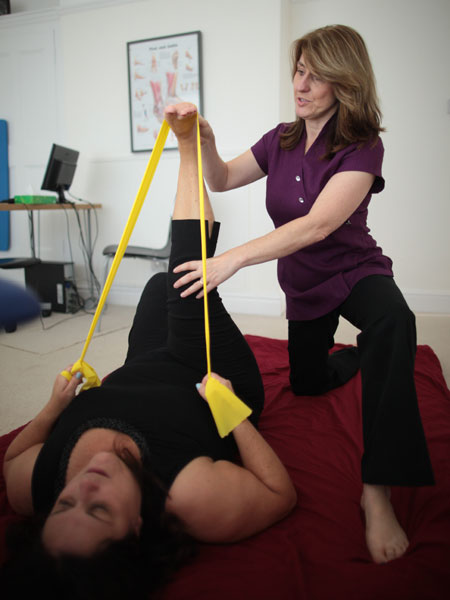 Physiotherapy is a healthcare profession which helps restore movement and function to as near normal as possible when someone is affected by injury, illness or by developmental or other disability.
Physiotherapists combine their knowledge, skills and approach to improve a broad range of physical problems associated with different 'systems' of the body. They treat:
Neuromuscular (brain and nervous system)
Musculoskeletal (soft tissues, joints and bones)
Cardiovascular
Respiratory systems (heart and lungs and associated physiology)
Physiotherapy is hands on at Back to Health!
Our team of Physiotherapists are all highly qualified and experienced and we are able to provide physiotherapy at all three of our clinics. The physiotherapy consultations and treatment at Back to Health are hands on. Your first visit will involve an assessment of your condition so that a treatment programme can be specifically developed for you.
Adrian Duicu MCSP is our principal physiotherapist in all our clinics. He qualified at the University of TRANSILVANIA in Romania and has undertaken many additional courses over the years since qualifying and gained experience in different areas. His work has included providing physiotherapy for the Olympic Sky Jumping Team of Romania. He has 8 years experience as a physiotherapist and has worked previously at clinics in Romania, Manchester and Chester. Adrian is registered Health and Care Professions Council (HCPC) and is also a Member of Charted Society of Physiotherapy (CSP).
Conditions which Adrian specialises in include
Musculoskeletal (MSK) injuries
Foot, ankle, knee hip injuries
Sports and running injuries
Postural problems and re-education of posture
Muscle and joint pain
Whiplash injuries
Orthopaedic surgery recovery plan
Overuse/over-training injuries
Rehabilitation exercises plan
Pre and post surgery physical exercises plan
Sports and remedial massage
Kinesiology taping
We are also fortunate to have Martin Latham working on a Monday evening at our Mold clinic. Martin trained at the Glasgow Caledonian University, he has been qualified for over 20 years and has worked at Robert Jones and Agnes Hunt (RJAH) Specialist Orthopaedic NHS Hospital in Gobowen, Oswestry as a Lower Limb Specialist Physiotherapist. He also works as an Extended Scope Practitioner (ESP) Physiotherapist triaging, assessing and treating patients that may not and do not require any surgical intervention.
Physiotherapy, your first visit and shared care
Your first visit will include taking a detailed medical history and a range of tests to evaluate your function, range of movement, reflexes and muscles. The physio will be able to give you a diagnosis and let you know what they can do to help you recover from your injury or to help you maintain excellent MSK health. They will be treating you during the first visit and will usually give you an exercise programme to complete at home. Follow up visits will continue with the prescribed treatment plan and will review your progress against the results of the first visit.
Physiotherapy may be referred to you by our chiropractic team at a point during the treatment plan when the focus changes from acute care to rehabilitation. The physio will have access to your medical notes written by the chiropractic team thus ensuring the best possible level of interdisciplinary care. Chiropractic and physiotherapy care are rarely combined within NHS or private setting, but we have found that together they can produce outstanding outcomes for the patient.
Testimonials
I found the consultation very thorough and it really helped me to understand the problem better
Mold physiotherapy patient 477
I have had a total knee replacement. When I first started my session I had a 30 - 40% bend due to complications but that quickly had increased and after 7 sessions I now have 110%. I was very happy with Adrian's methods and how you explain your next steps!!
JW
This year I had an ACL reconstruction and partial meniscectomy of the right knee. I saw Adrian throughout the year and his knowledge and explanation of the injury / recovery steps was excellent. He also had a great appreciation for the mental side of managing the injury, which in my case was equally as important as the physical recovery
TW
Did you know?
We celebrated our 10-year anniversary in Wrexham last year. Our patient survey revealed that the top 6 jobs which seemed to cause bad backs were Healthcare, Teachers, Hairdressers, Office based workers, Tradesmen & women, Retirees and Drivers