Physiotherapy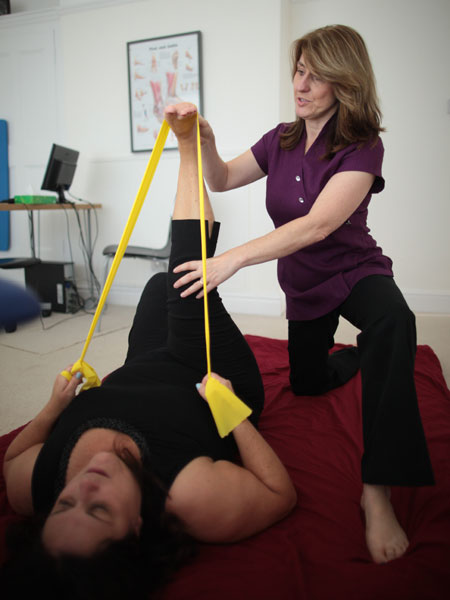 Physiotherapy is a healthcare profession which helps restore movement and function to as near normal as possible when someone is affected by injury, illness or by developmental or other disability.
Physiotherapists combine their knowledge, skills and approach to improve a broad range of physical problems associated with different 'systems' of the body. They treat:
Neuromuscular (brain and nervous system)
Musculoskeletal (soft tissues, joints and bones)
Cardiovascular
Respiratory systems (heart and lungs and associated physiology)
Physiotherapy is hands on at Back to Health!
The Senior Physiotherapist at Back to Health is Kevin Steel. Kevin is a very experienced MSK physiotherapist who studied and qualified in physiotherapy in Denmark. Since then he has worked in private practice in both Denmark and the UK. He has a special interest in sports physiotherapy and has provided treatment to both professional and local amateur sports clubs. Kevin's expertise within the musculoskeletal field covers sports injury, rehabilitation and recovery from surgery. Kevin uses a wide range of treatment types to help you recover including LLLT (low level laser therapy) and Kinesio taping. He is one of the very few physiotherapists in the area to use LLLT therapy. Kevin treats several professional, semi-professional and elite athletes from local sports teams.
The physiotherapy consultations and treatment at Back to Health are hands on. Your first visit will involve an assessment of your condition so that a treatment programme can be specifically developed for you.
Conditions which Kevin specialises in include
Sports injuries
Tennis elbow, ankle sprain, tendonitis, shin splints, runner's knee
Repetitive strain and overuse injuries
Plantar fasciitis, impingement syndrome
Joint conditions
Frozen shoulder, hip pain
Post-surgery and fracture rehabilitation
Postural dysfunction and muscle imbalance
Neck and back pain; prolapsed disc, sciatica, whiplash, referred arm or leg pain
Kevin is a member of the Chartered Society of Physiotherapy (CSP). As a condition of membership, individuals agree to adhere to the CSP's Rules of Professional Conduct, are expected to meet the CSP Standards of Physiotherapy Practice and must undergo Continued Professional Development the same way as a doctor or nurse. He is also registered with the Healthcare Commission Professions Council (HCPC).
Physiotherapy, your first visit and shared care
Your first visit will include taking a detailed medical history and a range of tests to evaluate your function, range of movement, reflexes and muscles. The physio will be able to give you a diagnosis and let you know what they can do to help you recover from your injury or to help you maintain excellent MSK health. They will be treating you during the first visit and will usually give you an exercise programme to complete at home. Follow up visits will continue with the prescribed treatment plan and will review your progress against the results of the first visit.
Physiotherapy may be referred to you by our chiropractic team at a point during the treatment plan when the focus changes from acute care to rehabilitation. The physio will have access to your medical notes written by the chiropractic team thus ensuring the best possible level of interdisciplinary care. Chiropractic and physiotherapy care are rarely combined within NHS or private setting, but we have found that together they can produce outstanding outcomes for the patient.
Testimonials
I found the consultation very thorough and it really helped me to understand the problem better
Mold physiotherapy patient 477
Thank you so much Kevin. I can walk some distance without my stick. All I can say is that you're marvellous
Mold physiotherapy patient 812
Kevin is friendly and understands the treatment needed to help me. The exercises are easy to follow and don't take too much time
Mold physiotherapy patient 915
Did you know?
Our patient surveys demonstrate that 95% of our chiropractic patients show an improvement in their symptoms over a period of 4 weeks. Patients who receive chiropractic care from us show a 70% improvement in symptoms within 4 weeks of starting treatment