Shoulder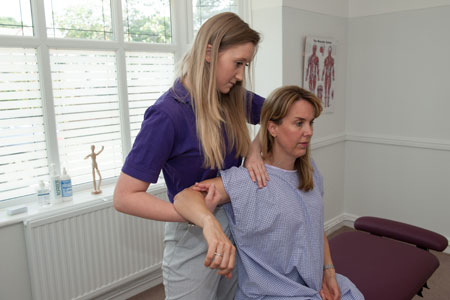 Are you suffering from any of the following symptoms which are often linked to shoulder pain?
Shoulder or arm pain or ache
Arm weakness or numbness
Restricted Movement
Tingling (paraesthesia)
Shoulder pain is the third most common reason to book an appointment at Back to Health after low back and neck pain.
The 'true' shoulder joint is the glenohumeral complex and includes the collar bone at the front, shoulder blade to the back, as well as the ball and socket joint of the upper arm. Therefore, shoulder pain can be caused by several different structures.
The shoulder is extremely mobile, more in fact than any other joint in the body. Whilst this makes it extremely useful it's also more prone to injury through overuse and trauma. Because of this, rehabilitative exercises, posture and ergonomics form an essential aspect to treatment. Correcting sports or exercise technique may also play an important role in resolving shoulder problems.
Conditions most commonly & successfully treated
Frozen Shoulder (Adhesive Capsulitis) - This occurs when the capsule around the shoulder joint adheres to itself with inflammation. Shoulder movement is greatly restricted and in the acute stage is accompanied by severe pain
Tendonitis - Inflammation of a tendon occurs with most shoulder injuries, pain tends to be increased on movement
Bursitis - Inflammation of a bursa (fluid filled sac). Often associated with tendonitis, trauma or rotator cuff tear. Characterised by hot swelling with marked pain on movement
Rotator Cuff tear - This is a muscle tear. It usually follows trauma and is very painful. A common sports injury
Impingement Syndrome - Inflammation caused by a reduction of space within the shoulder joint. Often aggravated and indeed caused by frequent use of the arms above the head. Can also be associated with osteo-arthritic changes to the bones themselves, and frequently accompanied by joint instability
Instability - Simply when your shoulder can move outside its structural limits. If caused by a trauma it is often associated with joint dislocation and is, of course, instantly very painful. If non-traumatic onset, it can be caused by repetitive and excessive use particularly through throwing sports or swimming, or indeed you can simply be born with it
Testimonials
The treatment I have received has been professional, considerate and very helpful. This is the best that my shoulder, neck and arm have been in nearly 18 months. I am very encouraged by the progress that I have made
Mold patient
Chris has helped my frozen shoulder immeasurably. It is now back to normal. I have had this for over 7 years! Thank you Chris
Mold chiropractic patient
Ashley is very reassuring and knowledgeable, whilst being able to effectively explain the reasons why I've been experiencing this awful arm pain. This has allowed me to make the most of the sessions
Wrexham patient 8702
Did you know?
The BPS (Bio psycho social) model proposes that health is best understood in a combination of biological, psychological and social factors rather than purely biological (medical) ones. Our chiropractors follow an evidence based, patient centred BPS model for all our care