Massage Therapy
The main purpose of massage therapy is to alleviate stress & tension, which can build up in the body's soft tissues because of day to day activities and taking part in sport.
The treatment focuses as much on prevention as it does on cure. It enables the massage therapist to monitor any negative changes in the soft tissue & to counteract this situation using advanced techniques of body massage and not just the usual rubdown.
The scope of massage therapy carried out at the clinic is varied and invaluable for many of our patients.
Benefits of Massage Therapy
Relieves stress & tension throughout the body
Identifies potential problems early on, before a minor overuse injury develops into a more serious problem
Provides integrated treatment with other therapists (chiropractic, physiotherapy)
Can detect postural defects which are developing & are causing referred pain
Keeps the body in a state of fine tuning
Deals with the effects of fatigue
Treats minor soft tissue conditions such as strains and sprains
Looks closely at postural & occupational stress on the body from fascial pulls to chronic shortening of major muscles
Loosens restricted joints & improves mobility
Reduces swelling & pain; breaks down & prevents scar tissue forming
Aiding orthopaedic & arthritic conditions for general well-being & coping strategies
A pre or post event massage can help with competition success
Most people would benefit from a sports and remedial massage at least once a month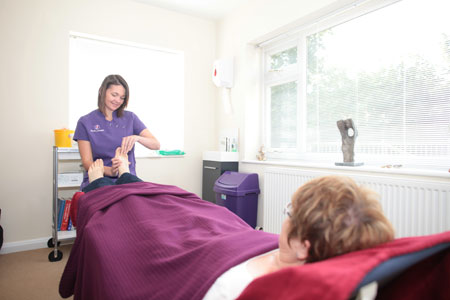 Back to Health is extremely fortunate to have the expertise of 3 talented and experienced sports massage therapists based at all our clinics. As well as working in our clinics they also provide pre and post event massage therapy at many external events, many of them for charity.
Nicky & Dani are on hand at the Wrexham clinic several days a week to treat a range of acute and chronic injuries. They have over 40 years' experience between them in massage & sports therapy and are passionate about massage, different massage techniques and learning about new massage styles! Dani is a qualified sports therapist and a Pilates instructor. As well as providing massage services at the clinic, she also offers one to one Pilates instruction. Nicky is also a qualified sports therapist & a registered Shiatsu and Thai massage practitioner. Nicky uses both traditional table-based massage therapy and mat based therapy. Mat therapy is appropriate for patients with mobility issues and for patients needing a more energetic massage such as Thai. Nicky is also a qualified infant massage practitioner and is one of the few therapists locally to be qualified in infant and pregnancy massage therapy.
Rhiannon is our sports massage therapist at the Mold and Chester clinics. Her expertise is deep sports massage. She works very closely alongside our chiropractic team in both clinics focusing on soft tissue work to complement their chiropractic treatment.
Massage therapy works well alongside chiropractic and physiotherapy treatment plan. Once the acute stage of an injury has been assessed and treated by the chiropractor, massage therapy, rehabilitation and prevention care take over.
Massage techniques used at Back to Health
Connective tissue massage - aimed at muscle fascia, improving the flow of interstitial fluid, addressing restrictions & adhesions
Muscle energy techniques - stretching & toning carried out within the pain free range, reducing the need for deep painful massage
Neuro-muscular massage -working on trigger points for example through acupressure & Shiatsu
Strain-counterstrain - a subtle & painless way to reduce spasm
Soft tissue release - combining stretch & pressure
Aromatherapy oils - used to work on a deeper level emotionally, enhancing the massage benefits
Lymph drainage - using gentle work in relieving lymph oedema & improving fluid reabsorption
Massage, Medication & Shared care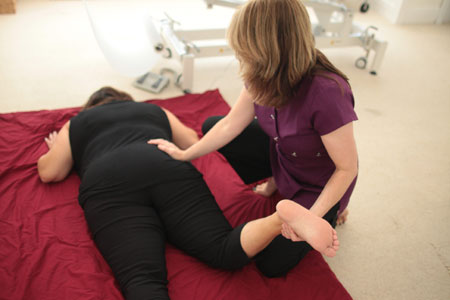 If you are visiting the clinic for the first time for a massage the massage team will need to undertake a brief assessment prior to the massage which includes taking a medical history. All information about medication being taken is needed. There are contra-indications to deep remedial work with certain conditions such as thrombosis and any blood thinning medicine. Reduced pressure is also need for diabetes due the risk of bruising. High/low blood pressure, epilepsy, heart conditions can be treated but adaptations must be applied.
If you are already receiving chiropractic or physiotherapy treatment at the clinic you will already have been assessed by the clinician therefore there is no need for this additional assessment to take place. If the chiropractor has referred, you to massage therapy they will provide clinical instructions to the therapist.
How will I feel after a sports massage?
The body should feel pleasantly relaxed and more supple. There may be some tenderness in places if deep work has occurred. The next morning stiffness may occur & more tenderness can result over a 24 -48-hour period. This is a natural response to deep massage work as tissues remodel & start to repair. In most cases if the injury or tension was mild no side effects will occur. Mild headaches can affect some individuals if very sensitive to changes in the body. This is due an increase in waste levels being excreted into the blood system. It's usually a good idea to drink more water to flush the system out & take a good brisk walk in the fresh air. If more pain or severe headaches develop more investigative treatment may be required with a referral. We recommend a treatment length of no longer than 45 minutes for sports massage as it is very intense on the body.
Testimonials
As a Personal Trainer, regular runner and cyclist Nicky has been treating me for a number of years. I rely on her sports massage to keep me and my legs in good shape and free from injury. I would really recommend the Thai massage too which is a completely different energising experience - I feel brilliant afterwards
Wrexham massage patient
I am suffering from a chronic condition known as stenosis of the spine which is very restricting and causes a great deal of pain. Nicky has been treating me for over two years and I can only say what her treatment does for me is just wonderful. Nicky is very caring and most professional in her procedures. The after effects of her treatment give me more pain free movement in my limbs and a wonderful relaxed state of wellbeing
Jim Porter, Wrexham massage patient
When I arrived my legs were very swollen due to water retention, my ankles and knees were painful and my left leg in particular was very heavy. But since the two massages and following your advice my agility is markedly improved. I feel I am able to walk much better and for longer. I am more confident in moving up and down steps and my knees no longer feel so painful. I am really pleased at the effect of the treatment
G.D, Wrexham massage patient
Did you know?
The BPS (Bio psycho social) model proposes that health is best understood in a combination of biological, psychological and social factors rather than purely biological (medical) ones. Our chiropractors follow an evidence based, patient centred BPS model for all our care